PTC is known as paid to click website if you want to learn how to make your own Ptc website in WordPress or how to make ptc website using PTC custom wp script you are on the right blog.
What is WordPress?
WordPress is an open-source project by automatic.  WordPress is made of PHP language PHP is the most popular language in the world. We can say PHP as you know. Like the world's fourth-biggest website  Facebook is made on a PHP framework and PHP is the world's most used language and easy to use and easy to understand. Automatic company own's WordPress and Automatic is the parent company of WordPress you can say.  I want to mention a fact here 
According to a survey of 2020, the top 1000 blogs of 2020 are mostly built on the custom frameworks but the 10% which is the biggest percentage, are using WordPress.
What is PTC Custom WP?
The PTC Custom WP stands for paid to click custom WordPress. PTC custom WP was launched in 2021 by script booster and Now in December, the latest version is v 1.2. The functionality of this script is this can make a simple WordPress website to paid to click website for ad watching website you can say a and when a user came to it and registered their self so when they watch ads so user can earn money by this and admin can also earn money from the advertisers and the investment in their website so this is is working on the latest PHP versions like 7.4, 7.3 and more the only the latest one which is 8.0 now this is working on all of them.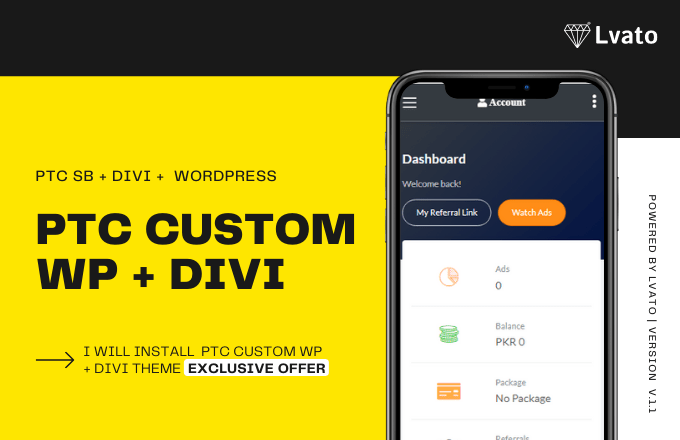 So, first of all, we will go to the admin panel
Admin panel has features like the total ads running on their system and total deposits total users and total withdrawals and total subscriptions or how much users are paid or invested in their sites you can say. Admin can manage the users from admin panel admin can accept subscription delete the subscription if he want so when user paid for a subscription admin got a screenshot and also the idea of payment so admin can verify them and pay for mark paid their self. Also when the user asks for the withdrawal place a withdrawal request so the admin can see the option where he can see the username of the user and also he can see the payment number and account number and also the payment method which he wants to get withdrawal. Then admin can check and I'll send the money and after that, he can mark paid them so admin can see if he paid them or not.  Also, the admin can sign in from a one-click single method so that is very easy The admin only enters the user id and clicks to sign in button so the admin can get signed into the website as a user.
Payment methods :
as the payment method in the scripts are mostly
Bank transfer, Bitcoin, Easypaisa, JazzCash, Perfect Money, Payeer, and admin can add more he wants like cashmaal, etc…
PTC Custom WP Features:
We got the top features of the PTC custom script. The biggest feature of PTC custom script is working on WordPress or working with WordPress so next is fully UX and UI design.  another feature is you can run YouTube video ads on it you can run a website on it or you can say embed your website like ads in it more then you can add banner ads and they also will be responsive because we designed the script in this way when you will add any image or like that so your image or you can say the banner ad will also be converted into The responsive.
This script is fully open source and you can fully customize your want we allow our customers to customize the full script without our knowledge and we do not include any malicious or security code in the script.
If you want to learn how to make hyip website click here
Steps to make ptc website
First, buy all the required things to make PTC website. Buy Domain and Hosting then buy PTC Custom Wp Plugin
How to install PTC script
If you will buy the install plan from the script booster then the script booster team will install the script for you other wise they will offer or send you docs and videos to make the PTC website.